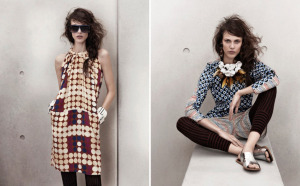 This morning Marni launched its highly-anticipated H&M collection in store and online. The Italian label's founder Consuelo Castiglioni has designed a spring collection for the high street brand, which has landed in 260 stores worldwide as well as online.
Castiglioni said of the new collection:
"I wanted to create a true Marni wardrobe by revisiting all our favourite pieces in signature fabrics and prints. As always, I love juxtaposing prints and colours, mixing modern tribal with Bauhaus graphic and adding sporty utilitarian elements."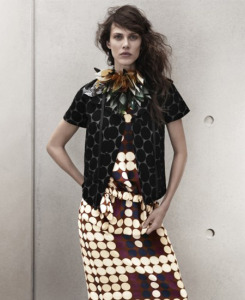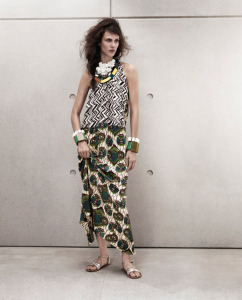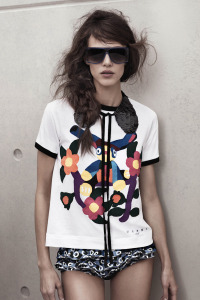 The collection will showcase all the elements that have become synonymous with the designer brand, from vivid colours to all-over prints. Our favourites from the collection include: Silk Dress £79.99; Silk Blouse £59.99; Silk Trousers £59.99
H&M started collaborating with designers for its collections in 2004, with Karl Lagerfeld. Since then the high street retailer has collaborated with various high-end designers including Stella McCartney, Viktor & Rolf, Roberto Cavalli, Matthew Williamson, Jimmy Choo, Sonia Rykiel, Lanvin and Versace. In terms of fashion PR, a high-street designer collaboration is a dream project, and publicity instantly increases. (Note – Mary Katrantzou for TopShop continues to feature in mags, despite the fact that most of the pieces are sold out!)
The question is, 'who wins'? Who benefits from this increased publicity? Is it the high street retailer or the designer? For the retailers, designer collaborations are a way of tapping into a 'masstige' market by delivering a sense of exclusivity and luxury. For designers, the campaigns establish wider global publicity, Stella McCartney, for example, was able to spread her ethical views to a wide consumer audience.
Sounds like the perfect PR platform for both sides! However, it is also important to consider the backlash on the day of the launch. With hundreds of people after a limited number of items, customers are bound to experience disappointment and it is H&M (not Marni) that will incur the blame. At 9am precisely I headed straight to the H&M website, and was not at all surprised to find that I had been 'placed in a queue' and have been in it ever since (much like the many many on Oxford Street at this very moment).  And where will our disappointment be directed – not at the designer, but at H&M via their social media pages. One angry shopper has commented 'Marni collection for H&M DISASTERRR'. It's important that H&M adopt a successful social media campaign surrounding the designer launches in order to maintain customer satisfaction.
Ultimately the increased publicity and hype around designer collaborations far outweighs the few complaints – and designer collaborations will continue to boost H&M's credibility and mass popularity. Long may it continue!